Welcome to the offical website of Iain Aire, author and book binder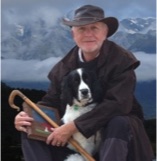 There will be regular updates and information that I hope will be helpful.
There is a section where you can contact me and links to my social media sites, Facebook and Pinterest.
I hope you enjoy this website and thanks you for visiting. See my Author Bio for more information.
Latest News
A new page blog has been posted.
A new short story has been added to the Seeds anthology. It is called The Lady and Her Poet. It is an experimental piece of writing. For decades I have been collating material for a fantasy novel, so I thought I would try my hand at a mythological short story. The Lady and Her Poet is set in medieval times I hope you enjoy reading it. Follow the Publication link below.
I have finished the first draft of the novel that follows 'The Grey Pilgrim's Gambit,' after events threatened Jake Sumner's life in the final chapter. The twist took me by surprise. I had thought I was writing a stand alone novel. This is what happens when you follow Stephen King's advice on developing strong characters that drive the plot.