Welcome to the official website of Iain Aire, author and book binder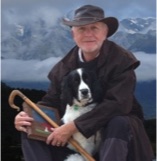 There will be regular updates and information that I hope will be helpful.
There is a section where you can contact me and links to my social media sites, Facebook and Pinterest.
I hope you enjoy this website and thanks you for visiting. See my Author Bio for more information.
Latest News
A new short story has been added to the Seeds anthology. It is called The White Talon. It came second in a UK short story competition in the 1980s but has since gone through a major rewrite, with the story now set in New Zealand. The reason for the change is that The White Talon will form part of the novel Child of The Mist. I hope you enjoy reading it. Follow the Publication link below.
'The Grey Pilgrim's Gambit,' will be in its final edit early in 2021. If you are interested in when it will be published please contact me by email.